Stonewall Lodge Cabins
Our cabins are the perfect place to stay when visiting the Rocky Mountains. With a variety of amenities and activities available on-site, there is something for everyone at the lodge. Our rates are very reasonable, especially considering the quality of the accommodations. The lodge offers a variety of different cabin options, all of which are clean and comfortable.
Cabin Amenities
Each cabin at the Stonewall Lodge comes equipped with a full kitchen, private bathroom, and a cozy fireplace. The lodge also offers a variety of on-site amenities, including a custom all-weather pavilion complete with a full kitchen, barbecue grills, and seating for 50 as well as fire pits for nightly gatherings.
See What Others Have Said About Their Stay
Check out verified reviews from Google below…
How Can I Reserve A Cabin?
To reserve a cabin at Stonewall Lodge, you can simply book online. Guests can choose from a variety of accommodations, including suites, cabins, and rooms, and can view availability and pricing information before making a reservation.
Guests can also make reservations by calling the Stonewall Lodge directly. A friendly staff member will be happy to assist with finding the perfect accommodations and confirming availability.
For those who prefer to make their reservations in person, the Stonewall Lodge is open Mon-Fri from 10am-5pm mountain time. Guests can come in to check out the property, speak with staff about available options, and complete their reservations on-site.
Stonewall Lodge Camping Accommodations
Stonewall Lodge Camping is known for its beautiful scenery and peaceful location. The campground has 16 RV sites, and it also offers several amenities such as a playground, a basketball court, and a river for swimming.
Stonewall Lodge Camping also offers cabins for visitors with as many as 3 bedrooms, full kitchens, Direct TV and Wifi. Our rooms are well appointed and large – over 19'x19′! Bring the whole family to the campgrounds.
Stonewall Lodge offers camping options for visitors to southern Colorado, making it convenient for guests who want to stay close to town while exploring nature's many attractions.
More About Stonewall Lodge Campground
The playground here is the perfect spot to spend some quality time together outside with the kids. And if hiking's your thing, don't forget about the extensive trails that crisscross through the forested areas nearby – they're bound to make your hike even more memorable!
Stonewall Lodge RV Park is a family-friendly campground located in Southern Colorado with plenty of amenities for visitors, including grills and a fire pit. It also offers set up sites for RVs and trailers, as well as lodge style cabin camping options. There is also a custom pavilion with a full kitchen and room to seat 50, the perfect setting for a special birthday or company retreat.
Stonewall Lodge is perfect for families who are looking for a place to relax and enjoy nature. It features many amenities and access to nature that will make your stay enjoyable. You can also find cabins if you're looking for an outdoor adventure without having to leave the comfort of sleeping indoors.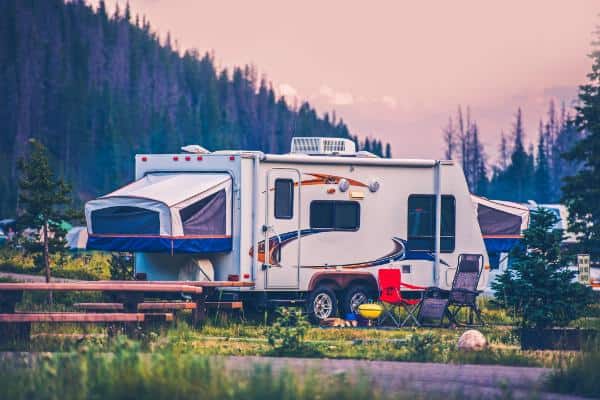 Campground Facility Details, And Rental Information
Campgrounds are popular with tourists because they're close to major cities and attractions while offering access to beautiful natural environments. They're good places to go if you want to get out into nature without having to worry about making too many adjustments on your trip.
There are different types of campsites at Stonewall, so you'll likely find something that suits your needs if you visit us, including full hookups for RVs, cabins, and studios, most with two queen-size beds.
There are activities such as canoeing/kayaking and hiking nearby. We even have fishing onsite, with gear for rent and licenses issued during your stay. Teach the kids to fish while you're here!
Explore The Stonewall Resort And Enjoy The Views Of The Colorado Rolling Mountains
The Stonewall Lodge RV Park provides stunning views and boasts an impressive list of facilities – the site truly has something for everyone! The campgrounds are located mere minutes from Monument Lake and North Lake, so bring your suit!
Located in the heart of the Rocky Mountains, Stonewall Lodge offers stunning views of the Colorado Rolling Mountains, perfect for vacationers who want to explore the area and experience all that this beautiful region has to offer.
Check out our website for reservations and availability. The reviews from guests who have camped here rave about the beauty of the environment. You can see photos on our website and Facebook page. Better still – choose a date and check out our campsite to see for yourself!
Frequently Asked Questions